Jason and Kelly have successfully managed many large, Nationwide experiential marketing tours. We would love to put our talents to work on your next event marketing campaign.
We understand that each client has different needs and expectations, and we can help you exceed them. We know that changes can happen at any moment, and we are ready to adjust as necessary. We expect problems to arise from time to time, but rest assured that we will come up with a solution!
We are professional tour managers: This is our job, and we take it seriously. We keep our brand ambassadors motivated by creating an atmosphere of positive energy. We cater to the needs of the clients, and are professional in all our correspondence. We are extremely detail oriented, and realize the importance of the individual pieces that make a tour successful, always keeping the big picture intact.
Here is a sample of our latest work as Experiential Tour Managers:
NBA Larry O'Brien Trophy Tour (2017, 3 weeks) ProMotion Inc.
The NBA Larry O'Brien Trophy Tour visited 17 Walmart stores around Sacramento and the San Francisco Bay Area in California. The Larry O'Brien trophy was displayed in a covered case, and an NBA-branded step and repeat served as the backdrop.
Walmart customers were encouraged to take their photo with the trophy to share with their friends and social media accounts. Attendees were given NBA-branded wristbands as a gift for stopping by the activation. The promotional tour was designed to support the partnership between the NBA and Walmart, as well as to encourage sales of the Golden State Warriors' championship shirts sold exclusively in Walmart stores.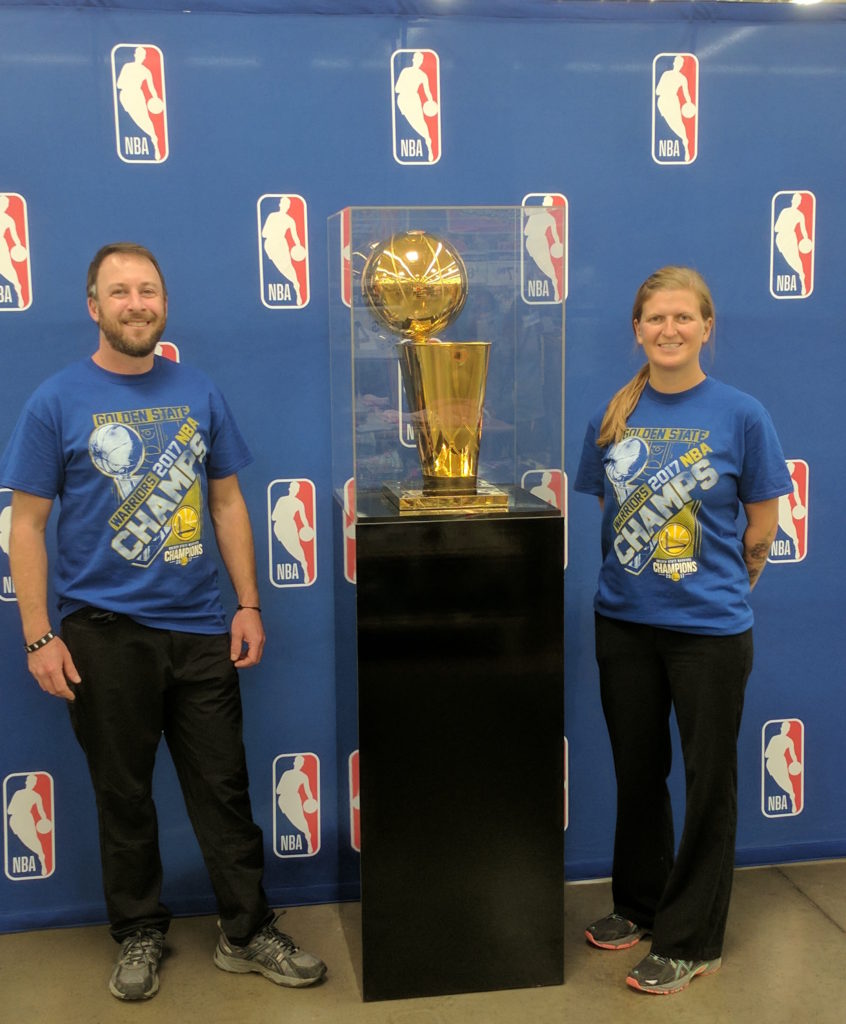 Promotional Elements: Larry O'Brien Trophy; NBA-branded step and repeat; NBA-branded wristbands; trophy stand with plexiglass cover
Duration: 2 Weeks
Locations: Walmart stores in the Sacramento and San Fransisco area
Tour Vehicle: unbranded cargo van
Staff: 2 tour managers
CHACO Footwear Traveling Taquería Tour (2017, 11 weeks) Highline Sports and Entertainment
The CHACO Traveling Taquería Tour" traveled more than 10,000 miles in 12 weeks, visiting music festivals, street fairs, and college campuses. The promotional tour consisted of four road crew members, a food truck and a pickup truck pulling an 18′ trailer. Additionally, we had 3 local brand ambassadors and a local catering company assist us at each event. The tour focused on introducing Chaco's footwear to attendees through our trailer display and shoe try-on experiences, along with giving away free tacos to those guests who participated in the "Find Your Spirit Taco" quiz.
The team of 4 was responsible for setting up the display items in a 50′ x 100′ footprint. It consisted of an 18′ trailer that opened up to display a variety of Chaco's footwear styles, and also had benches and seats for attendees to try on a pair of Chaco's sandals. The food truck was staffed by local catering companies who would serve street tacos to the guests that took our "Spirit Taco Quiz" and received a ticket for a free taco.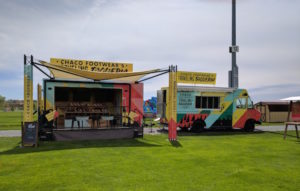 Promotional Elements: A product showroom for trying on sandals; a large kiosk for filling out quizzes; a branded food truck, serving tacos to consumers
Duration: 11 Weeks
Locations: Music Festivals, Street Fairs and retail locations
Tour Vehicle: 18′ trailer pulled by F250; 20′ step-van food truck
Staff: 4 person traveling team, 4 BA's at each event
INVACARE Rockin' Rollout Tour (2016, 13 weeks) ProMotion Inc.
The Invacare "Rockin' Roll Out 2016 Tour" was a business-to-business promotion developed to help Invacare reach out to existing and future clients, mainly comprised of physical and occupational therapists. The events were developed in a way that allowed the Invacare sales reps to demonstrate the products hands-on, introduce new product lines, and provide therapists with a free CEU training session.
The "rock-and-roll" themed events were held in event centers and hotel conference rooms throughout the country. We worked together with local Invacare reps and corporate managers in each market. The footprint consisted of 25 high-end wheelchairs, ranging from sports, pediatrics and neurological and trauma power chairs. Interactive stations were set for the therapists to use the equipment, and a "Rock and Roll" photo opp was offered on a stage with real instruments, providing an instant-print takeaway.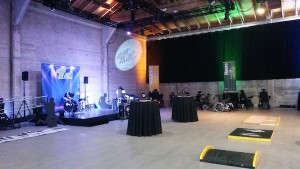 Promotional Elements: An interactive product display, filling 5000+ sqf event centers. A photo opp stage, professional lighting and sound equipment, touch screen tv, 'head' operated Guitar Hero and many decorative display items.

Duration:

13 Weeks

Locations:

Conference Centers, Hotel Ballrooms, Large indoor event spaces

Tour Vehicle:

Two 24′ Sprinter Vans
Staff: 5-10 Sales Reps (provided by client)
REI Member Village Tour (2015, 32 weeks) Lead Dog Marketing Group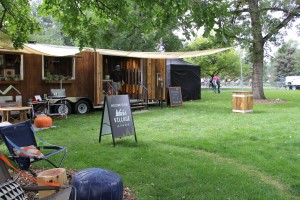 The 2014 REI Member Village Tour was such a success that we were invited back to manage the 2015 tour, this time for almost 8 months! During this tour, we logged over 25,000 miles, hitting almost every corner of the U.S. in the process. This manifestation of the Member Village Tour focused mainly on larger events, especially large cycling and running races, and multi-day music festivals. A partnership with the National Parks Foundation was highlighted, and several retail locations were featured as well.
REI Member Village Tour (2014, 18 weeks) Lead Dog Marketing Group
This 18-week pilot program for REI traversed more than 10,000 miles in 4 months, setting up at a variety of events to show REI Members gratitude and appreciation, and to partner with recreational groups who focus on getting more people into the great outdoors. Events comprised of: Large Events, involving all of the tour elements displayed at highly attended festivals and fairs; Local Extensions, showcasing the tow vehicle and a smaller footprint at an outdoor recreational activity; and "Surprise and Delight" Events, sharing a unique gift with an REI Member and a small group of hand-selected guests, often at their homes or public locations nearby.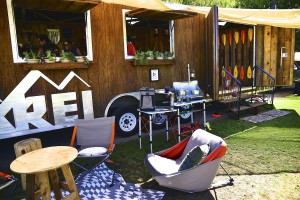 Promotional Elements: A 30'custom designed trailer anchored the 50'x100′ footprint, featuring several camp lounges, games, giveaways and demonstrations.

Duration:

18 Weeks

Locations:

Large festivals, outdoor recreational events, REI retail locations, various partner locations

Tour Vehicle:

30' custom-designed trailer pulled by a branded Chevy Silverado 4WD
Staff: 1-10 BAs per event, Local REI staff, Rhino Staging Labor Staff

Media:

Canon EOS 60D camera for event image and video capture; 6 iPads for consumer survey and sweepstakes entry; Instagram photo printer connected to custom app; Instagram enabled camera; GoPro video camera
---
Fiskars Discover the Difference Tour (2014, 15 weeks) ProMotion Inc.
This 15-week program visited 12 states in 12 weeks throughout the country. The 24′ branded Airstream trailer served as the backdrop for our large, interactive footprint. Consumers were given the opportunity to use various Fiskars' garden, lawn and craft tools firsthand.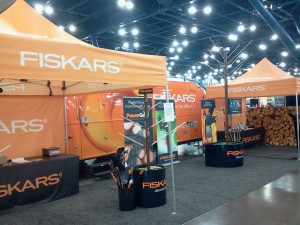 Promotional Elements: A 30' x 40' interactive footprint featuring several "trees" on which consumers can actually use Fiskars' tools to cut dowel rods; an axe display; 7 retractable banners, and a craft area with a hands-on project to demonstrate Fiskars' scissors.
Duration: 15 Weeks
Locations: Home and garden shows, large hardware stores and farmers markets.
Tour Vehicle: 24' branded Airstream trailer pulled by a Ford F-250
Staff: 1-3 BAs per event
Media: Video captured by 3 remote operated cameras, as well as handheld video testimonials; Data capture on 2 iPad devices; Touchscreen television for product videos; Huge social media presence throughout Facebook, Instagram, Pinterest, and YouTube.
---
Mrs. Meyer's Garden Fresh Tour (2013, 33 weeks) On Board Experiential
This 8-month grassroots marketing tour for Mrs. Meyer's Clean Day took us throughout the West Coast and into Canada. Our passion for the product allowed us the opportunity to effectively promote while genuinely connecting with customers. We were able to exceed all goals for the tour, including samples, coupons, trials and interactions.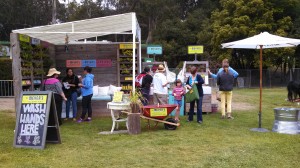 Promotional

Elements: A 10' x 20' interactive "Garden Retreat", featuring 8' tall walls, living vertical gardens with 50+ plants, and 2 sinks for consumers to test the hand soaps, all constructed of reclaimed barn wood
Duration: 33 Weeks
Locations: Farmers Markets, Fairs, Festivals and retail outlets
Tour Vehicle: 24' branded Sprinter van
Staff: 2-5 BAs per event
Reporting: Weekly PowerPoint presentation, weekly conference calls with the client.
---
CNN Presidential Debate Tour (2012, 10 weeks) Havas
This high-profile tour for CNN took place during the campaign leading up to the 2012 Presidential Elections. Activations were held at large scale events, such as NFL football games and State Fairs. Thousands of guests boarded our vehicle to "debate" a Presidential candidate and take home a souvenir photo of their experience.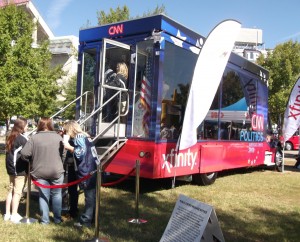 Promotional Elements: A simulated debate stage built inside the glass-walled CNN truck, featuring an instantly printed augmented reality photo, a digital download card and product promotions from local affiliate marketing partners.
Duration: 10 Weeks
Locations: Sporting events, fairs and festivals.
Tour Vehicle: 11 ton Freightliner, glass-sided 30' box truck.
Staff: 5+ BAs per event; multiple roaming "Nomads"
Clients: CNN, Xfinity, Comcast
Followed DOT Regulations; Maintained accurately detailed logbooks
---
The Amazing Spiderman Secrets Unmasked Tour (2012, 12 weeks) ProMotion, Inc.
This was the largest parking lot promotion ever accomplished by Sony and Walmart. We were one of 17 teams simultaneously promoting throughout the US. We set up and activated a large, highly technical footprint in 2 locations each day, 5 days a week.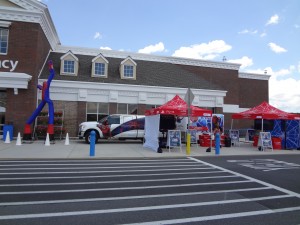 Promotional Elements:

A 40' x 80' interactive footprint including a photo opportunity, an augmented reality application, multiple televisions, a gaming station, a "fly guy" and multiple product giveaways.
Duration: 12 Weeks
Locations: Walmart parking lots throughout the North East U.S.; the Bronx Zoo; Sony Wonder Museum (NYC)
Tour Vehicle: Branded F-250 with 10' trailer
Clients: Sony, Marvel, Walmart, Straight Talk, Kellogg
Handled PR and media events throughout the tour, including National and local news.